Love the ART in YOU
"
This diamond-in-the-rough theater is thoroughly underrated, supremely entertaining and wholeheartedly recommended. Veteran theatergoers will be pleased with its quality, while newcomers will appreciate its honesty and lack of pretentiousness. It's a superb choice when thinking of weekend activities, and one audiences will not soon forget." -- UB Spectrum
"Outstanding...4-stars"--The Buffalo News

SATURDAY IS SOLD OUT
(Please call for availaibilty)

7:30 pm Showtime


Buy $20 Online Tickets
(Save $5 on General Admission Price)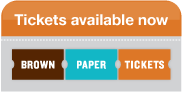 The mission of the American Repertory Theater is two fold. First, the mandate of The American Repertory Theater is to produce both classic and contemporary theatrical works and support a new generation of playwrights. These productions are purposefully created through the innovative exploration of these selected works, thereby enhancing the cultural and intellectual experience of the theatergoer. Second, the American Repertory Theater will serve as a catalyst for community dialogue and action that will result in sustained economic growth and increase the collaboration within all sectors of our community.